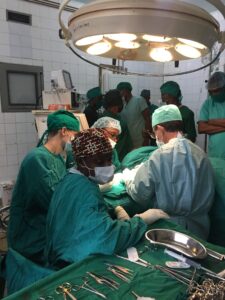 As summer relaxation kicks in, Mission: Restore is preparing for our biggest event of the year: Our 2018 Eastern African Regional Training trip (EART). It begins July 9th and ends July 13th. This year, the conference will take place in CoRSU Rehabilitation Hospital in Uganda.  This three day program will include 74 African surgeons from around the continent. They will be working on reconstructive surgical skills, leaderships skills, and networking to increase the the growth in the community. This summer training program allowed doctors to come and work together to increase their skills on surgeries in the region.
The first EART was in 2016 in Narobi, Kenya and has since grown every year. Last year's 2017 EART included 70 participants (at 70% increase from the 2016 EART), 30% were women, from 11 different countries in the region. They completed 27 hours of extensive training and 14 surgeries. Three participants went home with Africa Champions Cup awards including: Dr. Irene Asaba, Dr. Tshimbila Kabangu, and Dr. Maulid Abdallah Khamis. They focused on burn care, cleft lips, measurement of patient outcomes, and hospital system management.
This year's EART includes 100 participants.  The group collectively represents 10 different nationalities, and 64 are traveling out of their country to come to the conference. This year we have 74 surgeons participants, 38% of which are women. This year, mission restore hopes to continue it's Women in Surgery campaign. You can see on our website to learn more about the women in surgery campaign specifically. This year's EART will be the first to include a program for nurses. The conference has 26 nurses participating. This year's EART will also be extended two more days for the first time. The first three days will each focus on a theme. Thursday and Friday will be spent watching and participating in surgeries. This 2018 EART would not be possible without the help of our partners CoRSU, Lifenet, WiSA, and without the help of our sponsors: Smile Train, Realself, The Allergan Foundation, Integra, and Sientra. We are exited to be working with them and even more excited for our EART to kick off in a couple weeks. Stay tuned to hear more about our EART on social media.