From Denver, Colorado U.S.A. to Mwanza, Tanzania, we work with some extraordinary #WomenInGlobalSurgery.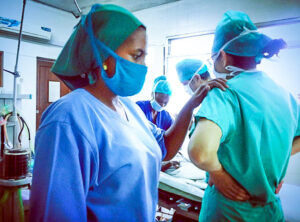 "Two women, working within two completely different economic, cultural and social contexts, thousands of miles apart, end up sharing very similar experiences, perspectives and advice as surgeons. We spoke with Dr. Olivia Kimario, a surgeon partner at Bugando Medical Centre in Mwanza, Tanzania as well as Dr. Joyce Aycock, a Mission: Restore surgeon educator based at the University of Colorado Denver, regarding their experiences as women in surgery."
"Despite being thousands of miles apart and facing separate surgical challenges, they share surprisingly relatable stories as females in the field."
Read the full article in Medium by Michelle Zavila, Mission: Restore's Program Manager currently based in Mwanza, Tanzania.