February 26 – March 2, 2018, Mission: Restore and Bugando Medical Centre completed a fourth surgical training trip in reconstructive and plastic surgery together in Mwanza, Tanzania. The training marked our first dual program to train surgeons and nurse staff on burns and perioperative patient care at the facility.
Dr. Einar Eriksen, a Norwegian reconstructive and plastic surgeon who specializes on burns in Ethiopia conducted the surgical training. Sr Yodit, an Ethiopian Nurse who works alongside Dr. Einar in Addis Ababa, led the Burn Unit nurse training for the week.
Altogether, Dr. Einar conducted two lectures on reconstruction of chronic and acute burns and Sr Yodit presented four lectures and three different workshop series for nurse participants. Topics for nurses included basics on burns, donor site care, dressing techniques, methods for staple removal and other practical teachings. Nine Burn Unit nurses participated in the week-long nurse training, and six nursing students attended lectures.
Three local surgeons participated in hands-on surgical training alongside Dr. Einar. This included Dr. Phillip Makoye (Head of Burn Unit, Registrar), Dr. Johnson Mrema (Resident, General Surgery) and Dr. Dino Mwaja (Resident, General Surgery). Ten procedures were performed on nine patients, 60% of those patients operated on were children under the age of thirteen. Throughout the training, 35 patients were consulted by Dr. Einar and the Bugando surgical team.
Local Mwanza charity foundation, BAPS Charities, generously donated funds to all young patients that received surgical care during the training. The funds were able to support the children's' health insurance as well as for their medication and dressing materials post-surgery. Their donation was also able to fund several other children's health insurance expenses who were consulted with during the surgical training.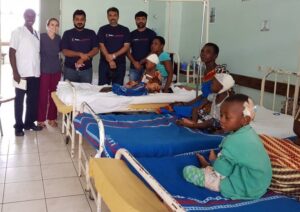 Operations performed during the February 2018 training included skin grafts, post burn contracture releases, wound debridement, transpositional flap procedure, scrotoplasty and scar excision.