Monday, July 9: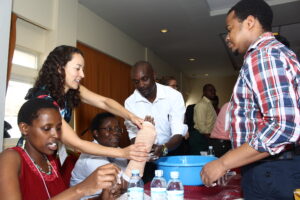 This marked the beginning of Mission: Restore's 2018 East Africa Regional Training (EART) in Entebbe, Uganda. The week has been filled with engaging lectures and practical hands-on surgeries. For the first time since the inception of the EART, we integrated a 2 day Nursing Track. Throughout the EART, Mission: Restore and our partners collaborated to improve reconstructive surgery and preoperative skills for surgeons and nurses across East Africa. The first day of the EART focused on "Burns and Wound Management" with panels, lectures, and presentations from trainers, guests and our hosts at CoRSU Rehabilitation Hospital.
Tuesday July 10: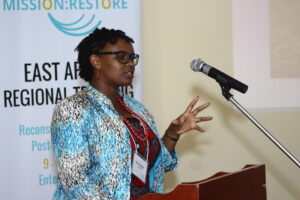 The second day of the EART focused on
"Cleft Lip Palate"
surgery and the promotion of
"Women in Surgery"
. The day kicked off  with a tour of CoRSU Hospital and then launched into lectures by Dr. Esther Njoroge, VP of Smile Train Africa and Mission: Restore founder Dr. Kaveh Alizadeh. Special guests such as Dr. Rose Alenyo from Mulago Hospital in Kampala, provided insight into issues such as the social stigma of cleft lip for children in Uganda.  The second day ended with a popular panel that explored managing work life balance and physician burnout. 
Tuesday 
marked the last day of the nurse training at the EART and participants said good bye to the amazing nurse participants. One participant, a nurse from the Democratic Republic of Congo, noted that the skills learned at the EART, "help me teach my colleagues how to fight infection and improve the post-operatives for cleft patients."  Day two culminated with a Women in Surgery cocktail event where special guest Dr. Jane Fualal of Women in Surgery Africa (WiSA) addressed the group.  Dr. Fualal noted how optimistic she is about the future for women in surgery and how she is looking forward to "supporting more amazing female surgeons."
Wednesday July 11: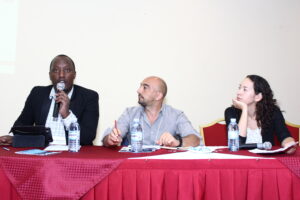 The EART aims to provide all skills necessary to deliver effective care for patients. With that fundamental goal, day three of the EART focused on
"Leadership, Management and Growth"
starting with a panel including Dr. Christian from Partners in Health, Davide Naggi (CEO of CoRSU Hospital) and Dr. Joyce Aycock as moderator. Throughout the day, participants had the opportunity to present specific case presentations from their various hospitals.
One participant from Kenya emphasized the "value of the skills being acquired here…so as to ensure the maximal care for our patients. A well trained team is just as valuable as a well equipped facility."
Thursday July 12: 
Hands-on training
is an essential EART ingredient.  With the solid background provided by the lectures, panels and discussions earlier in the week, 
Thursday
 pivoted to practical surgical experience. A select group of participants were given the opportunity to watch, learn and try the new techniques they had been studying for the last three days. The experience and learnings will not remain in Uganda. Many participants emphasize how they will take what they learn and share with their colleagues including Dr. Wone Banda from Malawi who said, "I appreciate being involved in any forum which will provide a platform to share experiences and skills with peers in the same field."
Friday July 13:
The final day of hands-on training in the OR, concluded the 2018 EART. And what an EART it was with over 100 participants from 11 different countries learning together through lectures, panels, networking opportunities and case presentations.  All of this was made possible because of our partners: CoRSU Rehabilitation Hospital, LifeNet International, WiSA, and because of support from our sponsors: Smile Train, RealSelf, Allergan Foundation, Integra Foundation, and Sientra. We are grateful for their support and excited to work with partners and sponsors who share Mission: Restore's drive to support surgeons and build surgical capacity that can make a lasting difference in people's lives. Today may have marked the last day of the 2018 EART, but the week reaffirmed the journey we are on together.  So, keep an eye out for EART 2019!